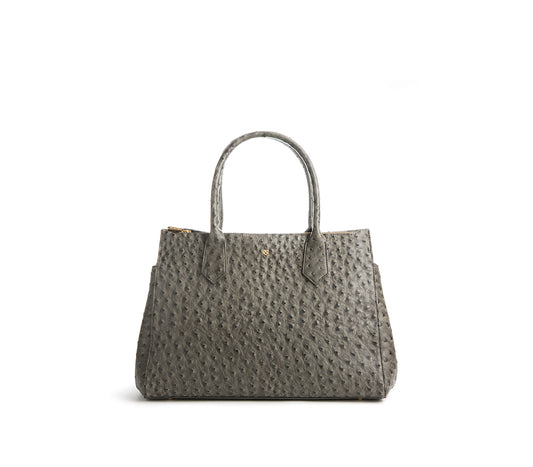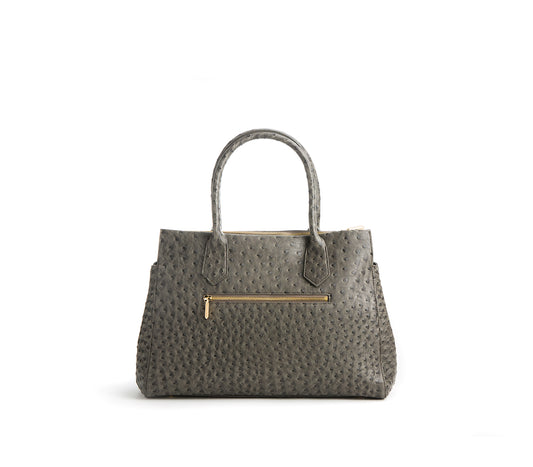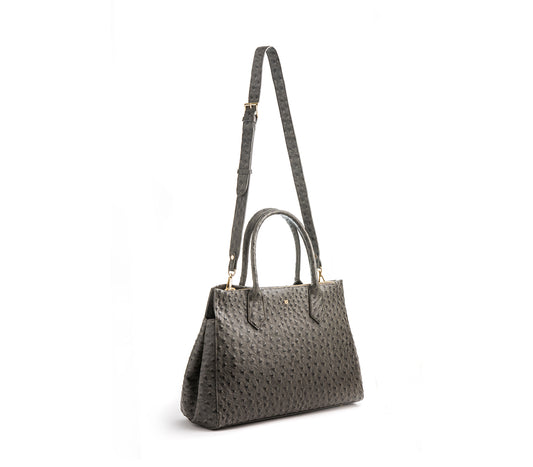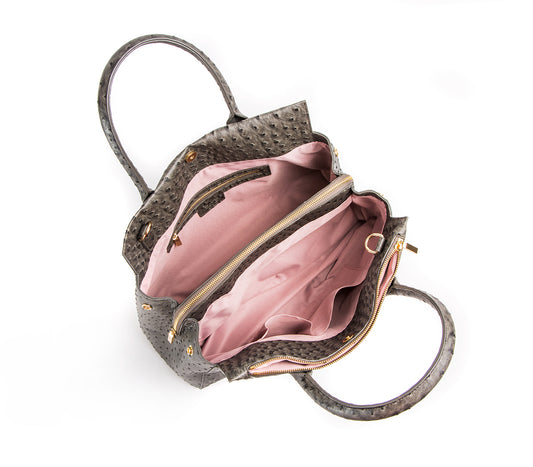 Koko - Dark Grey Vegan Workbag
Description

BAG STYLE & INSPIRATION


The Koko Satchel and work bag is so magical that it will take your breath away! Handcrafted with premium ostrich embossed rubber fabric, textured cotton lining and multiple zipper pockets this luxury handbag features every bit of extravagance you could desire including our ornate signature zipper charm, beautifully structured handles, and the removable chain shoulder strap.

We call it the Koko in honor of the very famous Gorilla Hanabiko "Koko" for short, who is known for having learned and mastered a large number of hand signs. Koko was originally loaned to Francine Patterson for her doctoral research, but has stayed with Patterson ever since, supported by The Gorilla Foundation. You clearly deserve this kind and compassionate indulgence dear Gunas Girl. 

Premium Rubberized Eco-PU
Branded luxury YKK Zipper
Adjustable long shoulder strap
Fits a 15" Laptop
3 Interior zippered pockets 
24K gold plated signature hardware
Peta-Approved Animal-friendly
Dust bag included

Dimensions:

15"W x 10"H x 6"D. Short Handle drop: 6.5". Shoulder Strap Drop: 22"

MATERIALS & ORIGIN:

Supreme Rubberized eco-PU
Non-toxic, PVC free.
Hand crafted with love in South Korea 
Beautiful
Love the bag and craftsmanship. It is a tinge small for my 15" laptop. The laptop fits snuggly in the pocket, but now the snap closures can't close. Still this is way better than any of the other more masculine laptop bags that I can find. I am really happy with my purchase.
Great bag
Wonderful bag. I would buy another if they made it in a traditional smooth leather.
My spring go to bag!
Gorgeous work (and weekend) bag— treated myself for my birthday, wanted a warm toned bag for spring. Very elegant looking, have already gotten compliments on it. Roomy and lightweight, easy to carry on shoulder or on arm.
Hi Dara,
Thank you for your kind review. We are thrilled to hear your feedback :) Happy Birthday!
Love the bag, but laptop doesn't fit in middle zipper pocket
I was really excited about this purchase and it was a reward for myself and I'd wanted to buy a Gunas bag for at least a year. Unfortunately, my 13 inch Macbook Air doesn't fit in the middle pocket(where it should go to be protected). It technically fits, but is so tight the zipper will break or it can hurt my laptop.
I'm in the process of returning it, but it isn't easy. I emailed them twice with no answer, but they were great once I got someone on the phone. The return policy is a bit confusing because they say the bag must be RECEIVED within 14 days vs. return label requested.
I really wanted this to work out and the bag is beautiful, but it just doesn't do what I need it to.
My recommendation: get it if you want it and you'll be happy, but make sure to check the measurements so you know it's right before it arrives and don't try to plan to put a 13" laptop in the zippered pocket(it'd be fine on the sides, but that's unprotected).
Kokomo love
The bag is beautiful and exceeded my expectations!